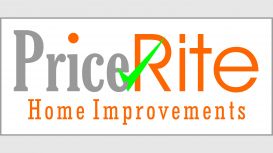 Price Rite Home improvements was founded by Roderick Pankhurst after serving over 30 years in the double glazing industry and this experience and knowledge has enabled my team and I to provide high specification products backed up with unparalleled after sales care.
This service includes building regulation compliance certification via CERTASS confirming that your products exceed the government requirement including a 10 year insurance backed guarantee. Further more Price Rite Home Improvements has a public and products liability insurance in force of £2,000,000 giving you total peace of mind.
We do not have expensive showrooms, middlemen or commissioned sales people. We pass these savings directly to you with the same products and guarantees as our larger competitors.
Installed with purpose, making a difference, Right price first time!!
Services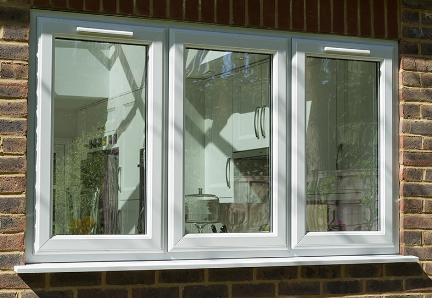 PVC-U Casement Windows:
Casement windows represent great long lasting value for the home. Virtually maintenance free, quiet and extremely secure (most casement windows come with Secured by Design certification).
The advances in technology now mean PVC-U casement windows can be seamlessly sealed and developed to achieve "A" Rated window energy ratings, ensuring your home retains heat while adding value to the property. New techniques allow you to personalize your casement window in a variety of colour finish options that are guaranteed for 10 years as standard.
PVC-U Vertical Sliding Windows:
The vertical sliding sash window is a beautiful design, but traditionally costly and difficult to maintain in materials other than PVC-U.
The new PVC-U vertical sliding sash window is easy to maintain with traditional and modern hardware options. The advanced technology ensures this design is secure, quiet and now "A" rated for window energy ratings. The visual appeal of the PVC-U sash window has been completely updated with 7 colour finish options available to provide everything from a traditional Irish Oak wood grain appearance or even a popular contemporary Cream finish.
PVC-U Tilt and Turn Windows:
The tilt and turn window is a fantastic replacement option. This design offers style and practicality opening slightly inward in "tilt" mode to allow in fresh air securely, or opening fully inwards in "turn" mode to make cleaning and external surface maintenance a breeze.
All tilt and turn PVC-U windows are available in a range of interior or exterior colour finish options to provide an updated and stylish look to your home with a 10 year guarantee as standard.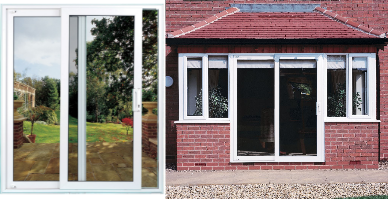 Bi-Folding Doors:
The bi-folding door is an exciting development in the PVC-U market, providing an elegant design which allows the entire span of the design to be opened up to rest internally or externally depending on your preference. A bi-fold really does perfectly join the inner space with the outer for parties, dining or relaxing. When teamed with a contemporary colour finish, the PVC-U bi-fold adds glamour and sophistication to any home.
Even when fully closed the large expanse of glass affords panoramic views, allowing welcome daylight to enter your home while still providing the modern thermal efficiency, security and low maintenance advantages that PVC-U offers.
Patio Doors:
Patio doors, which are sometimes referred to as sliding doors, are ideal in situations where you wish to have a large uninterrupted view of the outside from the inner living space. The sliding leaf design is highly practical and space-saving. Once fitted, patio doors provide plenty of natural daylight and are easy to operate.
This maximizing of the view does not mean compromising on quality however, with high technology hardware options ensuring the best security ratings in the market which can be Secured by Design accredited. PVC-U patio doors are virtually maintenance free and lighter to glide open or closed than timber or aluminum alternatives.
French Doors:
French doors offer two vital things in the hom: firstly, they provide an easy and practical way to open up a large entry point to the outside living space. Secondly, and perhaps just as importantly, they offer a grand entrance to that outside arena that adds real value to your home and quality of life.
By fitting PVC-U French doors you can gain the benefits of ease of maintenance, better security with modern high performance hardware options and now the additional benefits of coloured PVC-U finishes for added visual appeal.
And more!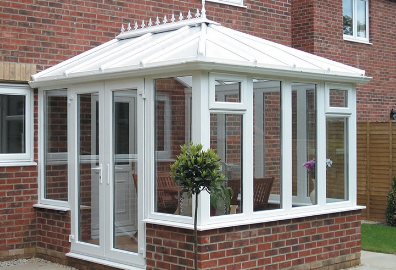 The Edwardian Conservatory:
The Edwardian conservatory is a very popular option for conservatory design. The rectangular shape not only acts like a natural extension of your home, but also allows for the maximum amount of internal space due to its square edged corners. Whether you require the room to act as a dining room, enlarged living room or playroom, this style will allow the maximum amount of furnishings to be utilised.
The Edwardian is a very versatile design; even buildings with height restrictions such as bungalows can be accommodated due to the flexible ridge design ensuring the overall look seamlessly fits with your current home.
The Victorian Conservatory:
The Victorian design is a classic and understated conservatory. The roof style is a crisp and rounded classical English design which is be suited to most housing styles. The Victorian is a popular choice as its rounded shape with faceted frontage contributes a subtle yet elegant partnership with your existing home.
All Victorian conservatories are available in our range of Artisan colour finishes and the addition of a Bi-Folding door or French Doors can be a modern enhancement to this appealing conservatory design.
The Gable Conservatory:
The Gable conservatory is one of the most versatile designs in the range. Its uniform and simple design, which is a variation of the Edwardian, not only allows the maximum amount of living space within the conservatory, but also allows it to be neatly coupled with almost any residential house style.
Gable conservatories offer excellent scope for design inspiration, especially if a sunburst / sun rising style frontage is included. For bungalows and other height-restricted situations, a hipped-back roof with box gutter is normally supplied. All Gable conservatories are available in our range of Artisan colour finishes and the addition of a Bi-Folding door or French Doors can be a modern enhancement to this conservatory design.
And more!!!
Reviews and Ratings
William Lei, Southend on Sea, Essex
We wanted to give a more local company an opportunity to have our custom. Also, there was no hard sell, as we experienced with more national companies that we contacted. Price rite home improvements of Southend-on-sea Essex gave us a first class service and were very professional in all aspects from sales to fitting. I would 100% recommend them as I have been extremely pleased with products and workmanship, thank you again for good job done and hassle free.